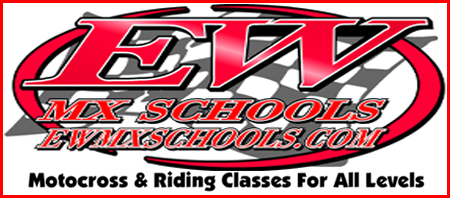 EW MX School training at Evergreen State Fairgrounds, Monroe Wa.
November 20th 10am-2pm
November 27th 10am-2pm
December 11th 10am-2pm
December 18th 10am-2pm
January 15th 10am-2pm
January 22rd 10am-2pm
The track is in a covered arena. Rain and snow does not matter.
The training will cover the following details:
-Bike Setup
-Body Positioning
-Braking
-Shifting
-Jumping
-Cornering
-Throttle Control
-Starts
Cost is $75 per rider. (This does not cover the $30 practice fee)
Training will start at 10:00am and runs durring the organized practice, ending at 2pm.
To get signed up contact Eric at 425-741-3278
For further information email eric@ewmxschools.com
Thank You,
Eric Waunch