MX Schools & Training
Eric Waunch
450 pro
Age 40
Bothell, Wa.
Started racing in 1986
Turned pro in 1994
Started teaching motocross schools in 1995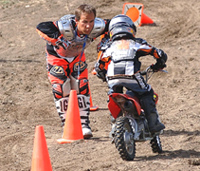 This is a list of the areas that are covered at an E.W. MX School.
Classes are structured for the specific riding ability of the class. I have numerous drills that focus on proper technique.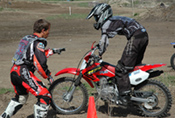 -Bike Setup
-Body positioning (attack position)
-Braking
-Speed shifting
-Cornering
-Jumping
-Whoops
-Passing (anticipating an opponent)
-Starts (throttle/clutch control)
Rider Classification:
I offer one of the few motocross schools that have separate classes for different riding abilities. If you're looking for a class to get into, check the table below to verify your classification. If you're still uncertain please email me with the details on you're riding history, I will get you into the correct class.
50/65cc and entry level class:
If you're a rider that is just getting started in the sport. Riding a XR/CRF 50,70,80,100,150, TTR 90,125, PW 50,90, KLX110, RMZ 110,125. This is the class for you.
85-450cc Beginner:
If you're a rider that has a little track time and is ready to step it up to the next level. Riding a CR85, YZ85, RM85, KX85 and all big bikes. This is the class for you.
Advanced:
If you're a rider that does most of the jumps at your local track. Has time under your belt racing and is ready to attack the track. This would be the class for you.
Women's Only:
This is a class for the ladies only. I know many women that do not want to attend a class with the guys. This is a class that spends a lot of time on the basic techniques of riding.
Trainers:
Schools are kept to a limited number of riders for more one on one time. Getting up close and personal with every rider is extremely important to me. I have some of the best riders in the Northwest assisting and demonstrating at my larger classes. Listed below are a few of the riders that have been assistants.

-Heath Hamblen
-JR Edmonson
-Wes Parker
-Tony Boughten
-Nick McConhay
-Paul Conners
Book a class at your Track:
If your looking at putting on a class at you're local track, the fees are listed below. I do many schools at private tracks all over the Northwest. I am flexible and can put something together that works for you. Contact me for availability and details. Eric Waunch eric@ewmxschools.com
or 425-741-3278

| | |
| --- | --- |
| Number of riders | cost per rider |
| 1 | $350.00 |
| 2-4 | $200.00 |
| 5-20 | $150.00 |